If you are in your Funnels platform and seeing that the "Questions" section is greyed out, or not clickable, it's because there's an existing integration tied together with that Funnel.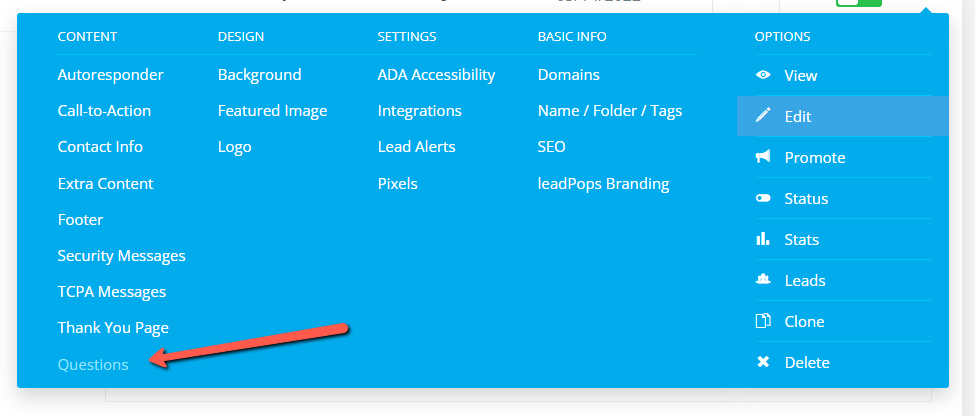 Why does that mean you can't access the Questions section though? 
Great question! That's what this article is all about...
Think of Funnel integrations similar to a puzzle and containing puzzle board. The puzzle in this example is the Funnel Question & Answer sequence. The puzzle board is the receiving CRM that the integration is sending the data over to. 
Now, when integrations are set up, it sees the "puzzle" and the "board" and knows exactly where to put each piece as the puzzle is being completed. 
Imagine now that you removed some puzzle pieces. Or perhaps you added new puzzle pieces to the puzzle entirely (think adding and removing questions here) ... 
...The puzzle wouldn't fit into the puzzle board. 
This is exactly what's going on when we're attempting to customize a form Q&A that has an existing integration. 
So, what do you do? 
You have two options: 
1. Clone a form and deselect the option to carry over the existing integration as part of the process. 
2. Reach out to our team to have us remove a direct integration for a specific Funnel here.
Please note that if you do have an existing direct integration (via posting url, XML, JSON, etc) and we then remove it. you'll need to utilize zapier.com to reconfigure and map the new form Q&A into the proper fields within your CRM. More on how zapier.com works here!