Why Google?
Google is by far the largest search engine in the world. In other words, consumers are looking for information on Google before Zillow, Facebook, LinkedIn, or any other platforms. Therefore, we need to make sure your presence here is optimized and prioritized above all else.
As such, setting up a Google My Business page should be an essential part of your marketing strategy. It provides your business credibility, and also helps you to get found over the competition when consumers are looking for local services.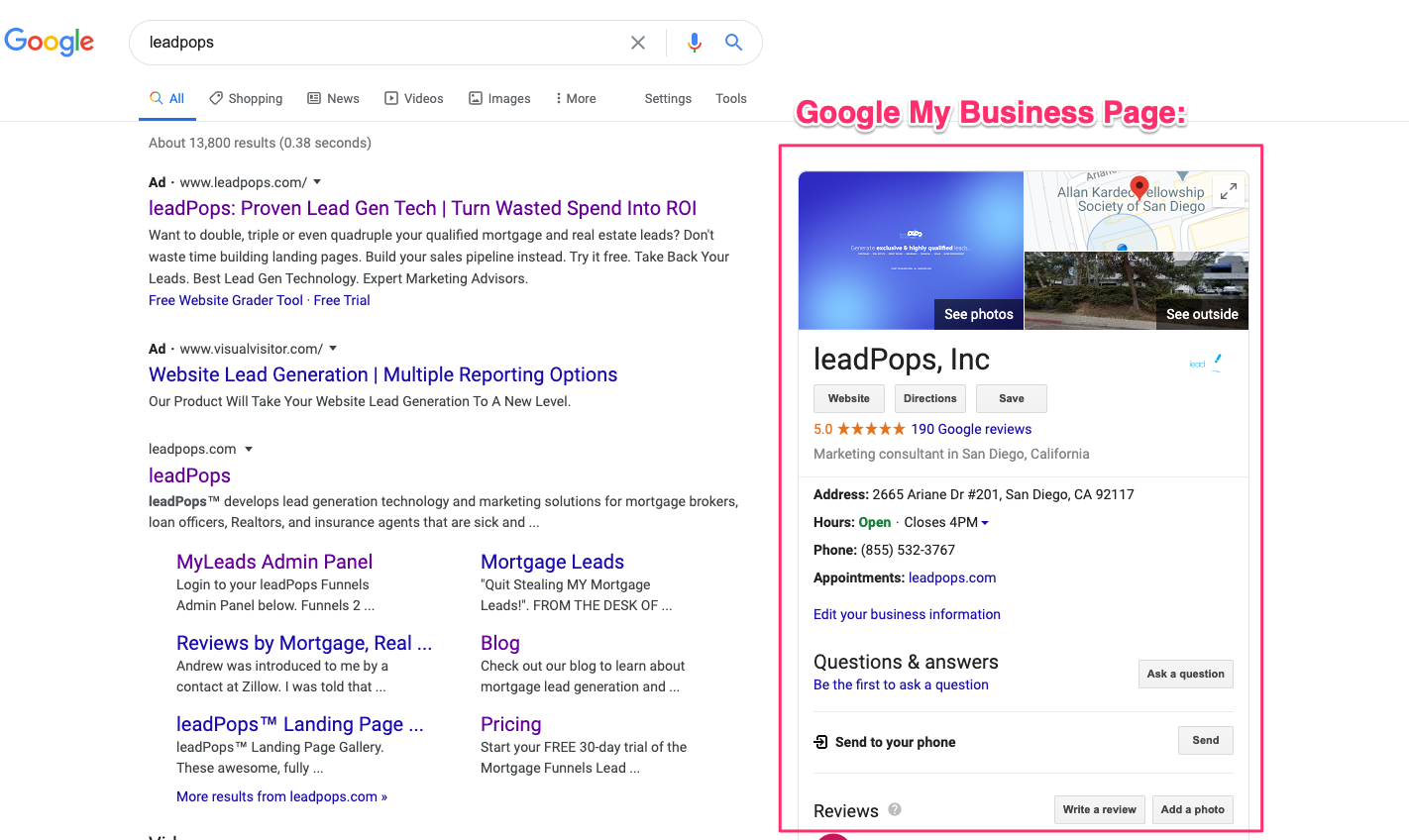 What is Local SEO?
Local SEO consists of optimizing your Google My Business page to physically get found on the map in your local area.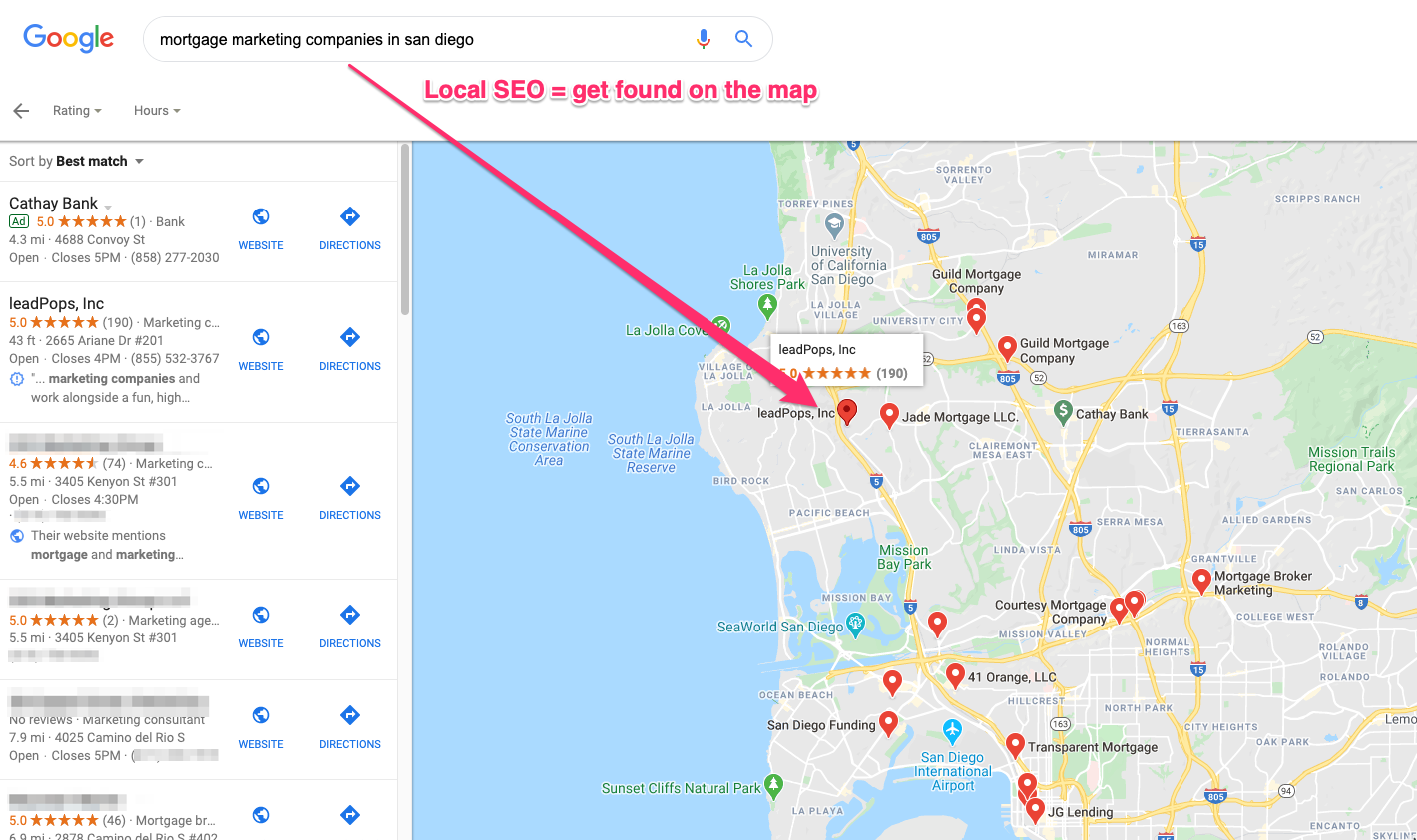 Ideally you'll even outrank your competition in the Local Pack. To start out-ranking your competition, you'll want accurate and complete information, reviews, and time. If you haven't already set up your profile, don't delay. Get started now.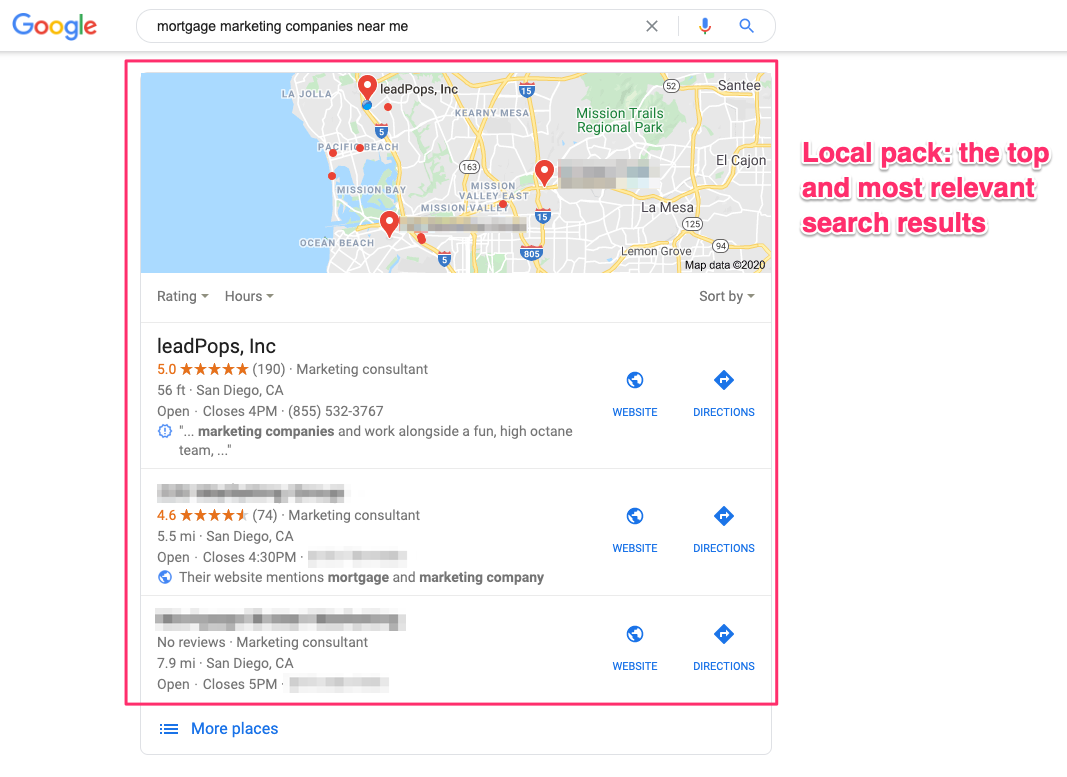 I can do this?
Yes! You can! Our video guide below showcases how to set up your page and optimize the content you can control.
One thing to note: the only content you can't create and provide yourself are of course: reviews! Reviews not only help consumers feel confident that hiring you is the best choice, it also helps your local SEO. In other words, no Google My Business page can truly be fully optimized without reviews and it's an essential part of the process.
Call or email support or schedule a time with our advisors for information on how leadPops can help leverage your happy customers into more reviews.
How to Set Up + Optimize your Google My Business Page
When optimizing your GMB page, here are some things to look for:
Do you have a GMB listing? If so, is it claimed and verified?

Is all business information present and correct?

Do you have multiple reviews and a high cumulative rating? Are you responding to reviews?

Do you have appropriate business categories listed?

Do you have images of the business?

Have you created any GMB posts?

Are you participating in the Questions & Answers section?
Helpful tips when setting up your GMB:
Fill out everything - YES - EVERYTHING! The more complete your profile, the better you'll rank.

To verify your business, Google will mail you a postcard to ensure you're legitimate. This takes about 5-7 business days. Check your mail regularly.

Make sure your name, phone number, and address are consistent with your other online profiles.

If you work from home or do not "own" your office building (e.g. you're in a shared work space OR you're an individual LO or agent for your company), then you cannot claim an address on your business page. Instead, choose that you serve a general area.

Even if you're licensed across an entire state, the purpose here is to be found locally over your competition. Therefore, best practice is to focus on your hyper local region when setting up your service area.

Local SEO is an art, and Google will never disclose why one company might outrank another. There are multiple factors including the length of time your page has existed, the quantity and caliber of your reviews, and the accuracy of your information. The best you can do is continually add content and audit your page for accuracy.
Page Suspensions:
No problem, it happens. We recommend that you start by checking the Guidelines for representing your business on Google. In particular, if your page has been suspended and you're not sure why, this is the first place to start.
If your page is suspended, check the guidelines and update your page to ensure your business is compliant. The #1 issue is typically that you're trying to claim an address owned by another company. Then, you can respond to your suspension notice and ask the Google team to review your updates.
There is also a robust Google My Business help community, as well. Chances are someone else has run into the same thing you have!
Or, check out our guide on How To Contact Google if you get stuck.
Claiming a page:
A Google My Business page is typically either "claimed" or "unclaimed." Our clients fall into three subsequent categories:
There's a page for my business, but it is not claimed.
No problem. The process will be similar to building a new page. Start by going to business.google.com and then typing in the name of your page. It will automatically show up in the drop down menu.
My page is claimed, but I don't know how to access it.
Remember: you must have a gmail address to create or manage a Google page. Check your records to see if you ever set up a separate gmail for this purpose.
My page is claimed, but by someone else.
If this is the case, you can request ownership of the page. Check out Google's guide on how to do that. If you know the person who owns it, it's probably a good idea to call them ahead of time and let them know what you're trying to accomplish. Let them know the matter is pressing because the request will expire after 5-7 business days.