Boost Conversions With Consistent Ad-Scent
In marketing, "ad-scent" means maintaining a consistent connection between your ad and your destination or landing page. Strong ad-scent ensures that visitors reach your landing page and find exactly what they expected. This simple rule can increase conversions dramatically.
Maintaining a consistent ad-scent is crucial for conversions because consumers follow scent in their web searches just like how animals track scent in their search for food; if the scent is strong, they'll stay on the trail. If they lose the scent, they quickly lose interest and head elsewhere. This same idea applies in marketing.
According to Xerox Palo Alto, consumers browsing the web operate on a "hub and spoke" basis. The "hub" is Google, Facebook, Yahoo or other search engines. The "spoke" is the search result that consumers click on.
We typically start at a "hub" such as Google or Yahoo and find a number of different "spokes" or links that we can click on. We follow these spokes from the hub, so long as the content is the same as we expected.
Imagine searching Google and finding four possible spokes that "smell" like they could lead to your desired destination. Your web surfing experience may look something like this image below: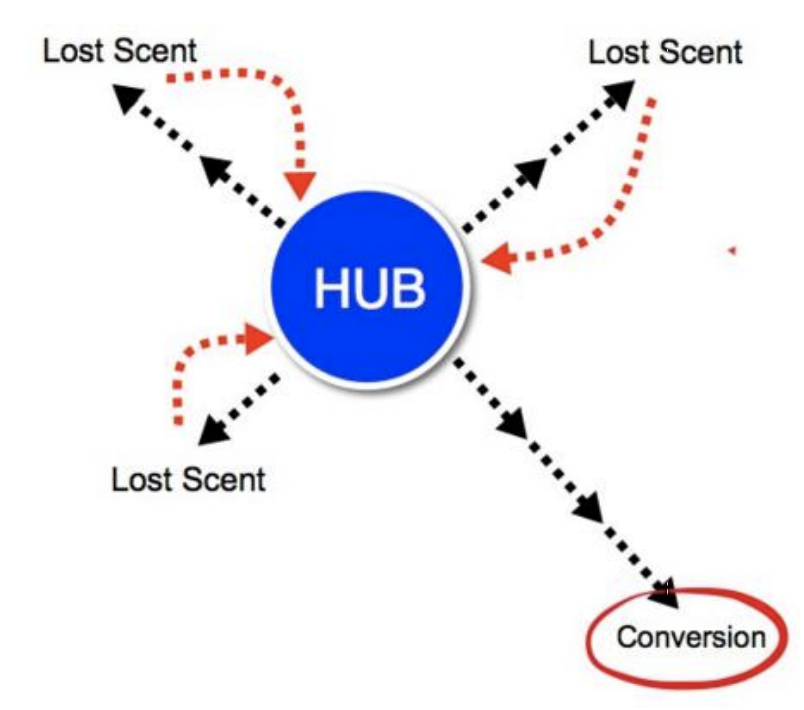 In this instance, three of the four "spokes" did not carry the ad-scent and you returned back to the hub to find the content most relevant to your desire.
When it comes to your marketing campaign - banner ads, pay-per-click ads, retargeting, social media posts - always keep the ad-scent aligned. To accomplish this, pay attention to three main parts while building your advertisement: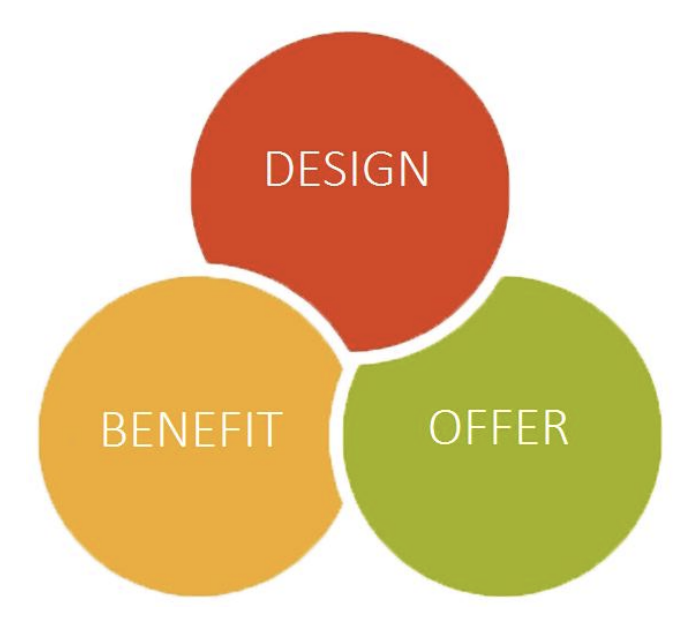 Let's break these down individually so you can have a better idea how to implement each aspect in your campaigns.
The Design
When creating your ad and destination page, be sure to keep the design similar on both. By clicking an ad and being taken to destination with a similar design, consumers are reminded that their click took them where they intended.
Here's an example of a banner ad and destination page design that keeps familiarity between the two. Notice how they both share the same common image of the kitchen. Small details like these make you feel more confident that you arrived where you intended.

The Benefit
This is the part where you craft your pitch. Why should consumers click your ad? What are they going to get if they do? A click on your ad, means there was interest so the pitch should be consistent with the ad.
Take a look at this ad from WordStream. The banner ad on the left does a great job piquing interest. But the main benefit is what's in it for you – a free guide. They do a good job making it prominent on both the ad and destination page.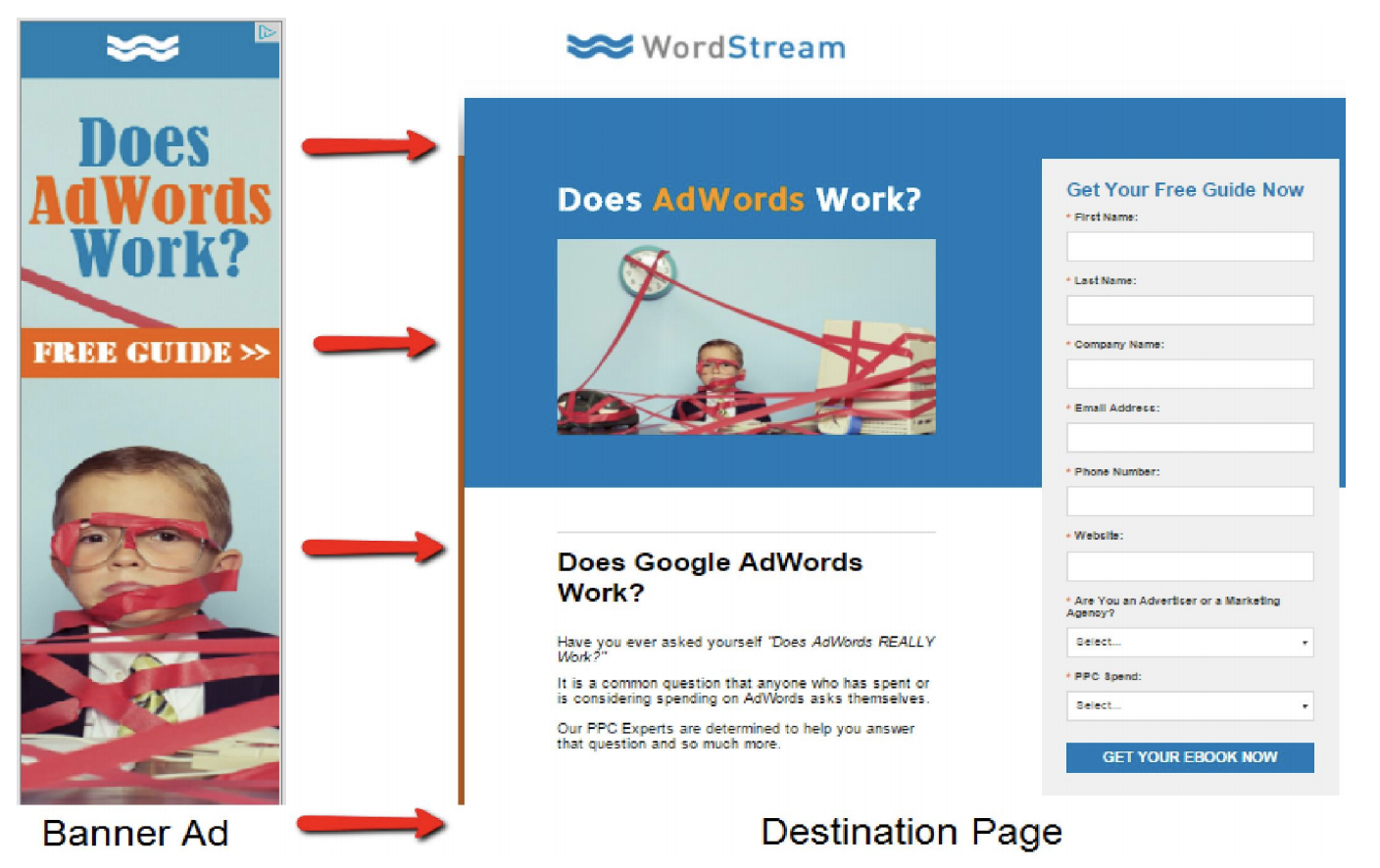 Two important things to keep in mind while developing your campaign benefits:
Include text in your ad outlining the major benefit(s) for the consumer. Be sure to include those benefits on the destination page.
Build your pitch around the benefits you mention in your ad. Always focus on, "what's in it for them?" when crafting benefits.
The Offer
This is the most important part of your ad! Your offer is the ultimate reason people will convert. Here's where you absolutely can't drop the ball. You can say adios to the chances of your traffic turning into business if you forget this simple step, so pay attention! ;)
Use the EXACT SAME language you used in your banner ad to get the click in the first place.
Make your offer clear and use call-to-action verbiage directing them where and how to take action. (See our article on call-to-action marketing for more info about this.)
This example from MBS Live gives a great example of exactly that. See how the banner ad makes the offer "Start Your Two Week Free Trial Today" and that same offer is the main focus using those exact words on the destination page. Not to mention, they've done a great job including our previous two topics of imagery and benefits as well. Excellent job MBS Live.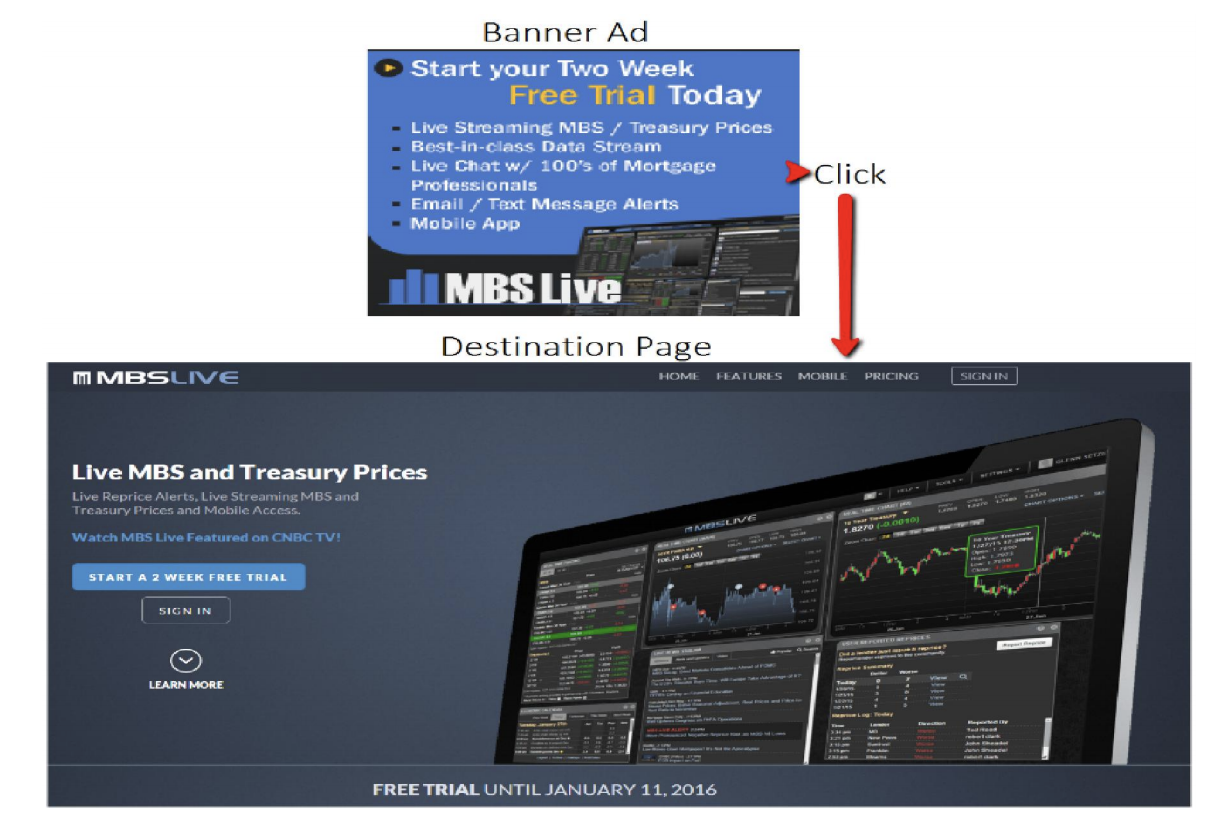 Conclusion
Ad-scent is important because it gives your consumers a sense of familiarity and reinforces the main reason for their visit. They clicked your ad because your offer piqued their interest, so why take them to a page that has little or nothing to do with your ad, or has a design that doesn't match, making it difficult to see the relation?
The more familiar you can make your destination page, the better chance you have at converting clicks into quality leads.
When creating your ad, make sure to keep the messaging, imagery and colors consistent, outline the major benefits, and present your offer clearly and consistently from the ad through to the destination page.
By following these three simple steps to maintaining a strong, consistent ad scent, you'll be well on your way to higher conversions in no time.