Setting up a website's tags are one of the oldest SEO tactics, and still one of the most relevant. Not having your tags set up in the correct way can literally make or break your SEO efforts. In this tutorial, we will help you understand how set up your tags in a way that will give your pages the best possible chance to show up for your desired search results.
First, let's decipher between the three types of SEO tags -- title tags, meta tags, and description tags.
Title Tags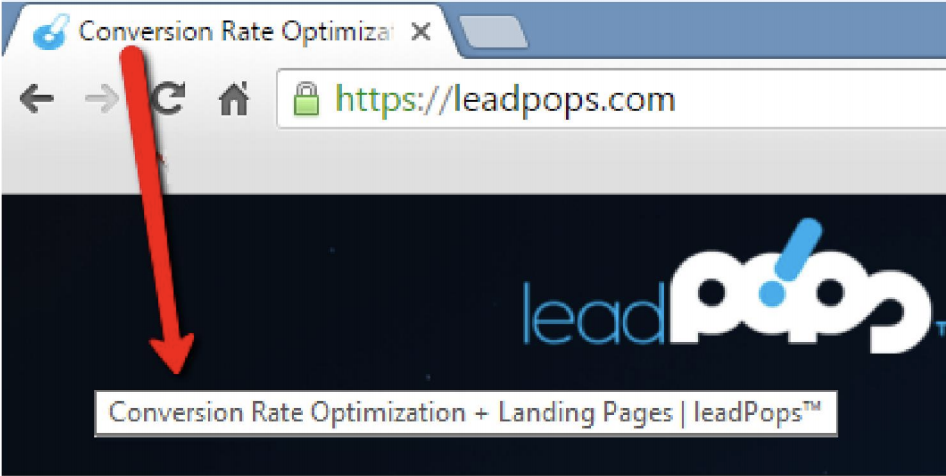 Title tags are a foundational element of SEO, and without correctly worded and formatted title tags, you have little chance at placing for your desired searches.
Here are the key points on title tags along with guidelines that will help you maximize them for your SEO efforts.
Title tags are HTML code that should be found on any webpage. They are visible at the top bar of an internet browser and also, the bold blue text on search engines results pages (SERPS).
Search engines use title tags to first figure out what a certain page is about; one could say they're like the title of a book. Title tags should include the key phrases that you want to be found for. For example, if you want to be found for, "San Diego Mortgage Rates", then you want to make sure that exact phrase is included in your title tags.
Similarly, the title tags should match the content of that page. So, if the title tags say, "San Diego Mortgage Rates", you have to make sure that the content is about San Diego mortgage rates. Not having that match up is like have a book titled "San Diego Mortgage Rates" and then the content of it being about gardening… how much value would you put behind a book like that? Search engines look at in the same way.
There is a character limit to how much you can include in a title tag. There isn't an exact number, but it is widely accepted that the limit should be between 50-60 characters. So you need to make sure that you concise with what you include in your title tags. You can't just add every term you want to be found for. In fact, doing that ends up hurting you since search engines see that as keyword stuffing.
If you have a website or multiple pages, don't use the same exact title tags on various pages. Diversify them so they are not the same; repeat content is not something that search engines are fond of.
Meta Tags
Meta tags are a series of keywords, separated by commas, used to tell the search engines what your website is above. Meta tags were once a very powerful SEO tactic. Though they have lost much of their influence, they are still a relevant SEO tactic.
When setting up meta tags, simply use a handful of keywords that are relevant to the topic of the page you are optimizing.
Description Tags
Description tags are a summary of your page, visible on search engine results as the few lines of description you see included with each result.
Description tags are designed to give both potential visitors and search engines a quick explanation of what is found on your website/page from the search engine results pages (SERPS). Description tags are essentially a preview of your page.
When writing your descriptions, create something compelling that entices potential visitors to click, not just a bunch of keywords (meta tags, as described in the prior segment, are just a bunch of keywords).
There is a generally an accepted character limit of around 160, even though there are examples of websites that place well with descriptions being lower and higher.
It's very important not to just stuff your descriptions with keywords. This is one of the first places search engines look for someone stuffing keywords, and if you do, you could really hurt your search engine placement.
Conclusion
Even though SEO tags might seem a like a technical undertaking, they are by no means as complicated as you might imagine.
As you can see after going through this tutorial, all you have to do to optimize your tags is just write a few relevant sentences regarding the keywords you want to be found for.
For leadPops website clients, within your leadPops admin panel, we have an easy interface for you to be able to edit your tags, no coding required.