Pro Tip: Are you using Zapier with MLO Shift? You might want to check out our guide on how to complete that integration, as it requires a few extra steps. See it here.
1. Sign up for Zapier
Zapier is a free service that helps connect software. In essence, it's an "If this: _____, then that: _____" software. For example, you could set up a process that does the following: "If a leadPops lead is generated, then it'll be sent to my CRM."
When signing up for your free account, we recommend using the option to create a username and password. You can also sign in with your Facebook or Google account, however, that will make it harder for third party companies (that is, us) to sign in and help troubleshoot when needed.
Some instances do require an upgraded Zapier account. This includes if you're using "premium" apps (such as Salesforce for Jungo), if you want more than 5 zaps, or if you're trying to filter responses. But for most clients, the free account will suffice!
2. Connect Your Apps
Once you've logged in, head over to "My Apps" in the top navigation bar, then search for "leadPops" in the "Connect a new account" section. Let's start by connecting leadPops.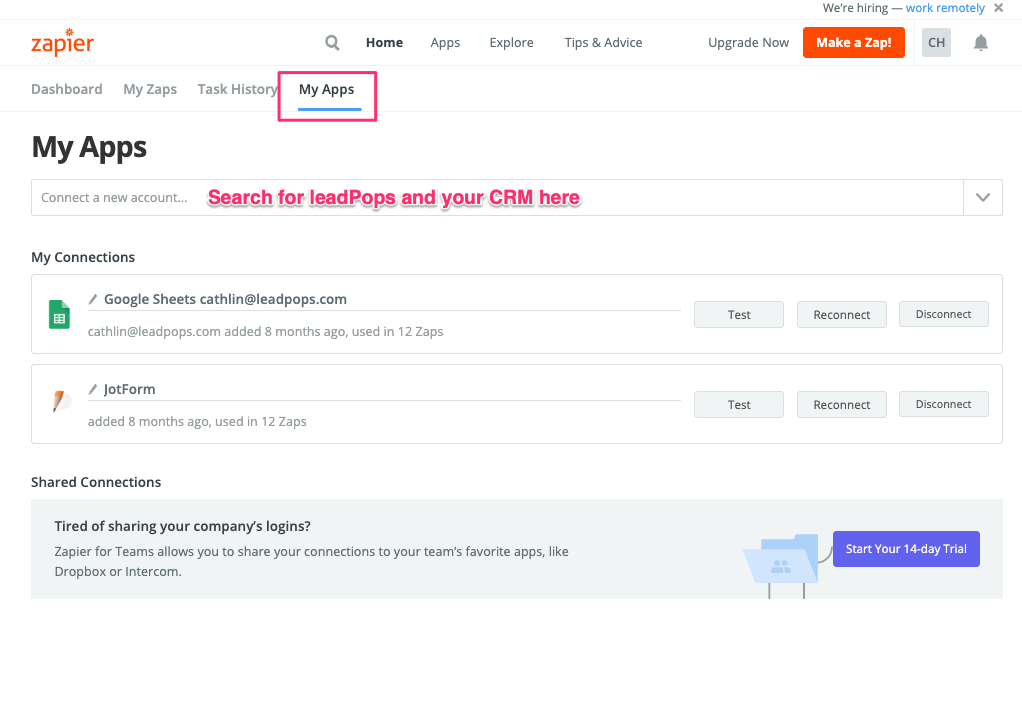 Once you click on "leadPops" in the search bar, Zapier will open a pop up window. Be sure your pop up blocker does not prevent this from occurring.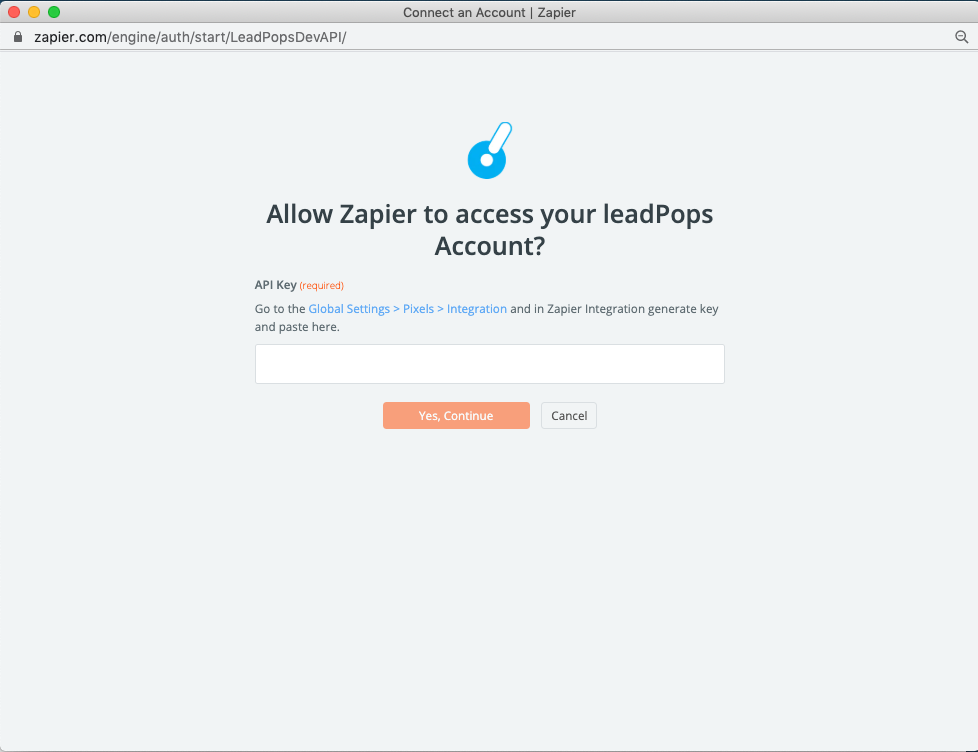 In order to complete this request, you'll want to hop into your leadPops admin panel here: https://app.leadpops.com/
Click on any funnel > Edit > Integrations. Then select the tile for "Zapier". From here, select Generate Key > Copy to Clipboard. Once you've copied your API key, paste it into the Zapier window and select "Yes, Continue."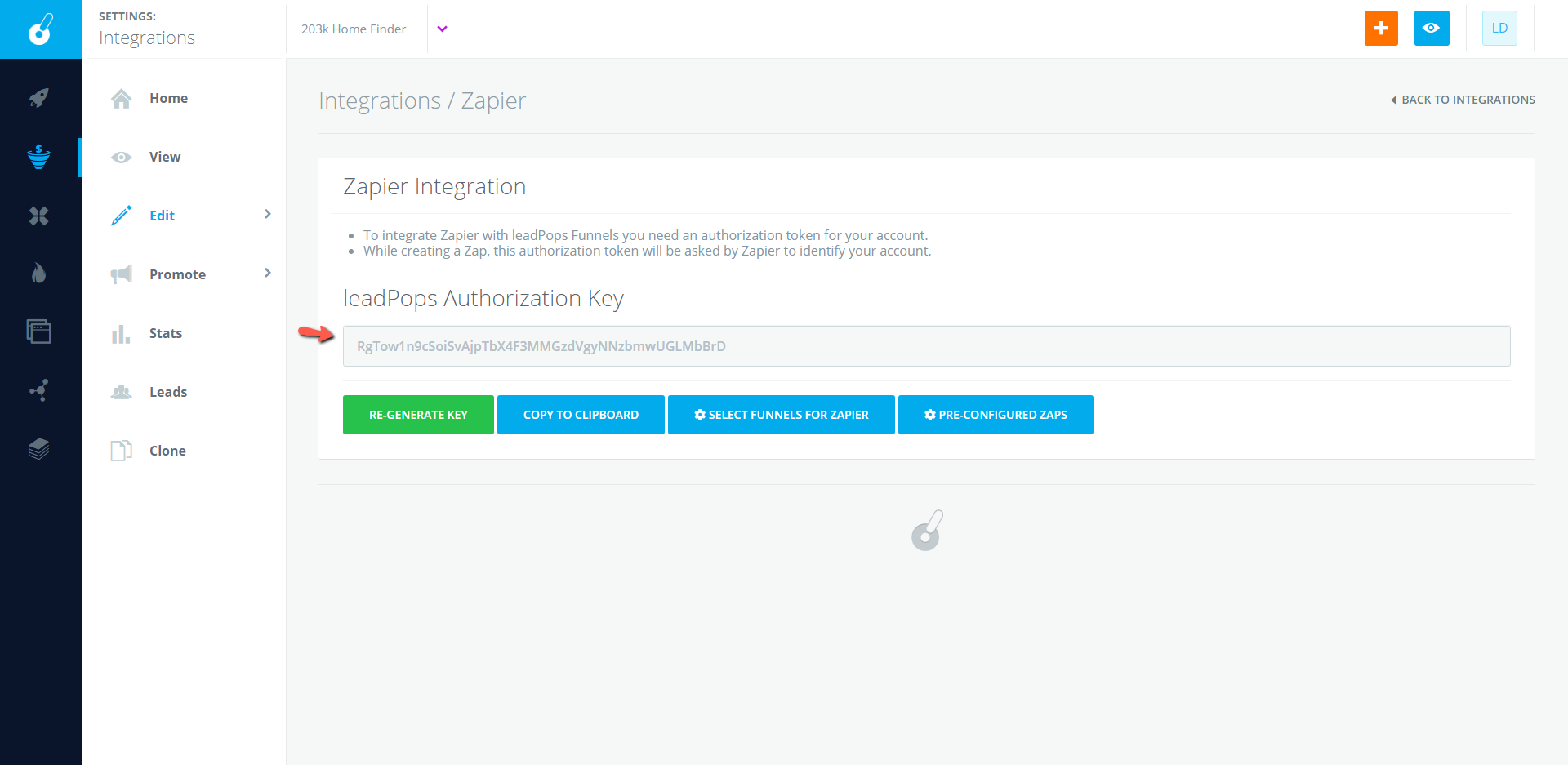 Congrats! Your leadPops account is now connected to Zapier. In order to connect your CRM, you'll want to refer back to the beginning of step 2 of this guide. Search for your CRM's name and select it. Every CRM is different, but in most cases you simply need to log in using your username and password.
3. Make A Zap - "When this happens..."
Once both apps are connected, press the orange "Make A Zap!" button in the upper right corner of Zapier.
Then, name your zap and select leadPops from your connected apps.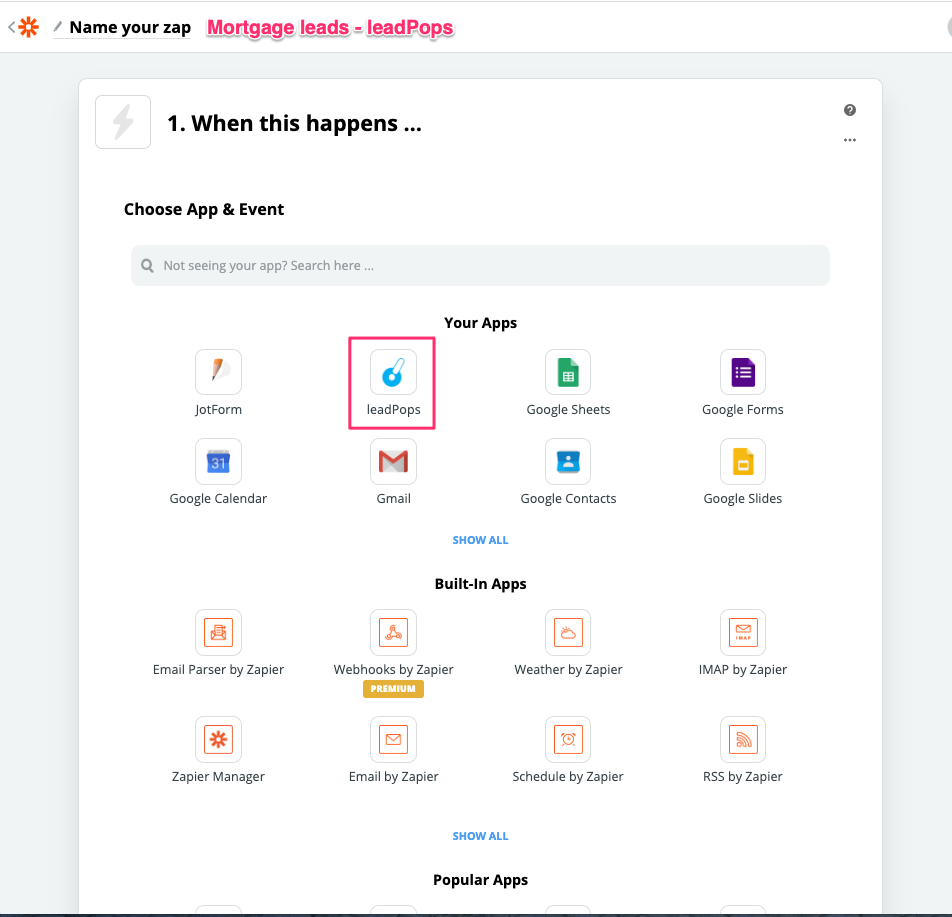 Press "Continue" - by default Zapier should have the following fields completed: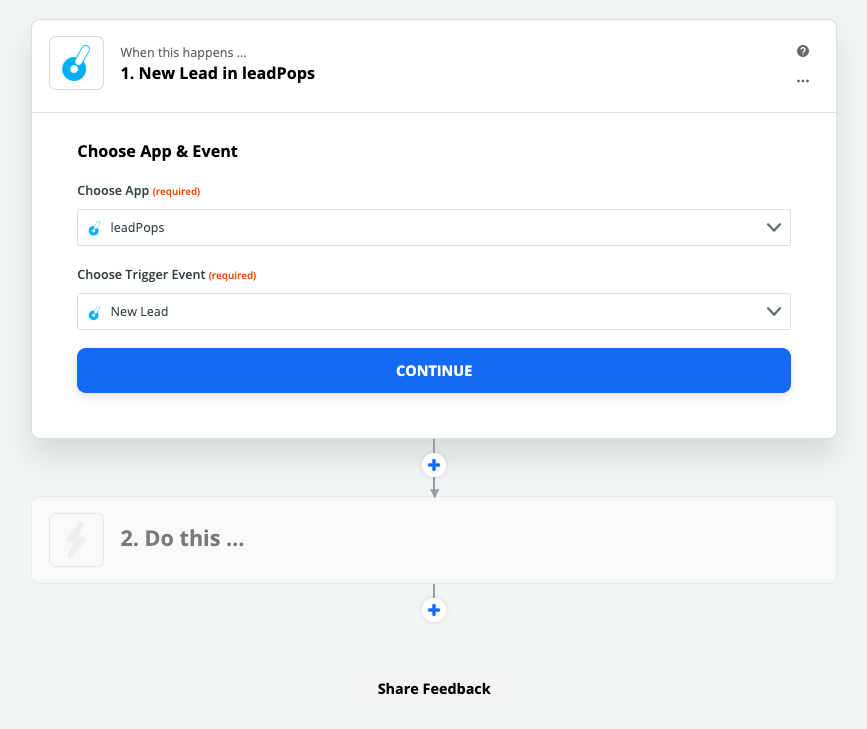 Select your account from the drop down menu: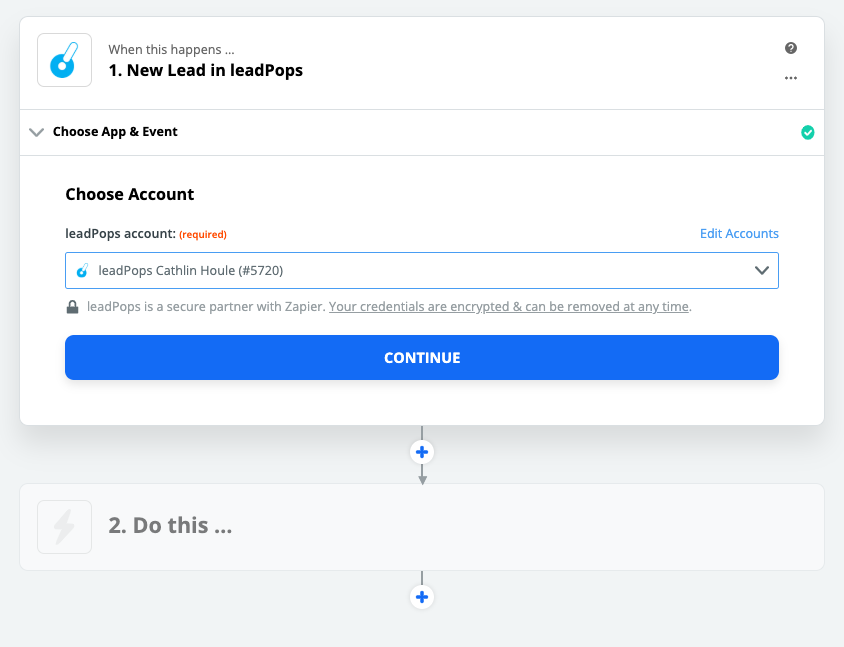 And determine how specific you'd like to be when you Customize Lead. For your zaps to work, you only need 1 zap per vertical. In other words, if you select "Mortgage," then all of your Mortgage funnels will be connected.
However, you can get more specific by choosing the group, sub-vertical, or even individual funnel. Just be sure to keep in mind that Zapier will ask you to upgrade your account once you surpass 5 zaps.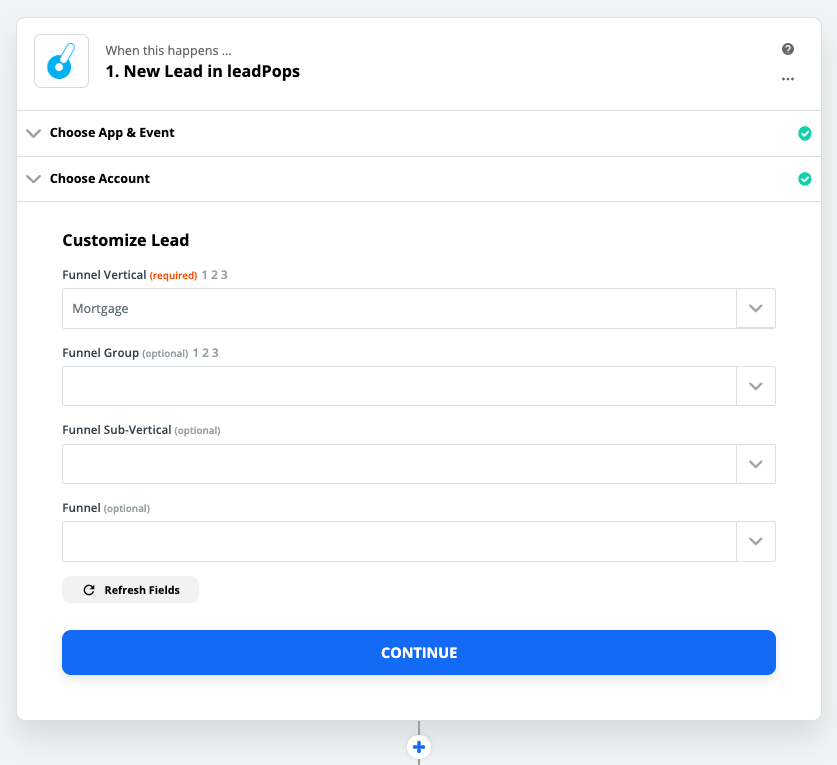 And lastly, you'll simply want to press "Test & Continue." If all goes well, you should see a green check mark and then be moved to the second step within Zapier.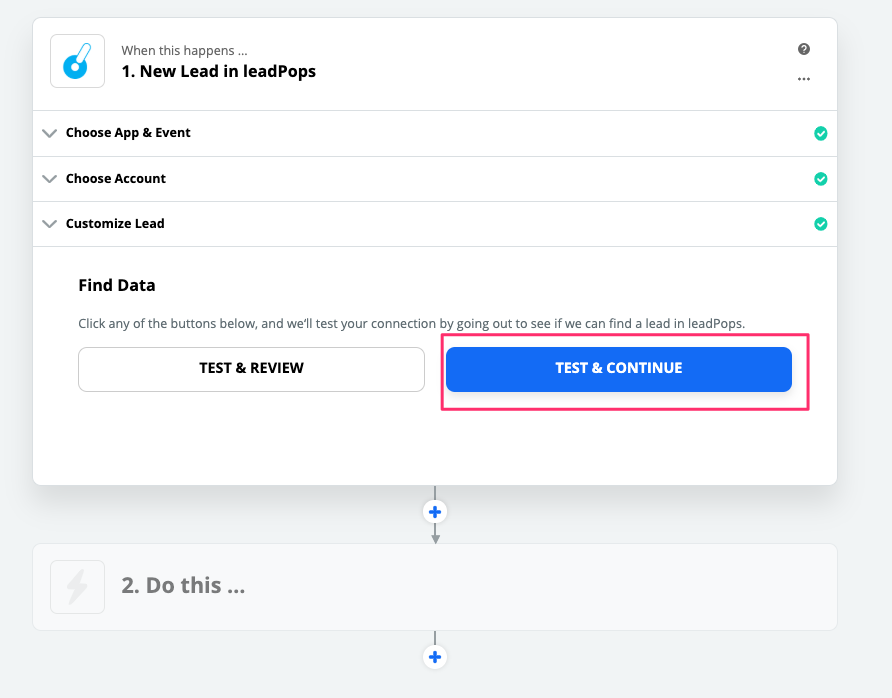 4. Finish Your Zap - "Do this ..."
Every CRM will differ, but the process will be similar. For example, you'll need to choose your app, and then choose an action event. Typically, it's something like "Create Lead" or "Create Contact," depending on how your CRM works.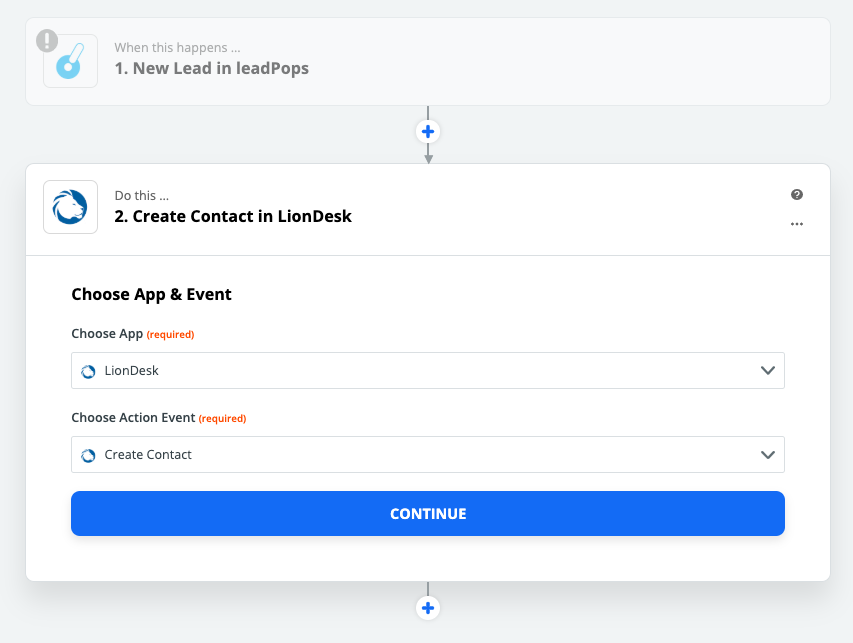 Once your app is connected, you have the opportunity to customize which fields are brought over to your CRM. Be sure to click the + icons to select fields that are coming from leadPops. You'll want to match the fields so that the leadPops "firstname" value goes into the CRM's "First Name" field, for example.
You can also select the down arrow v icons to customize make additional customizations within your CRM.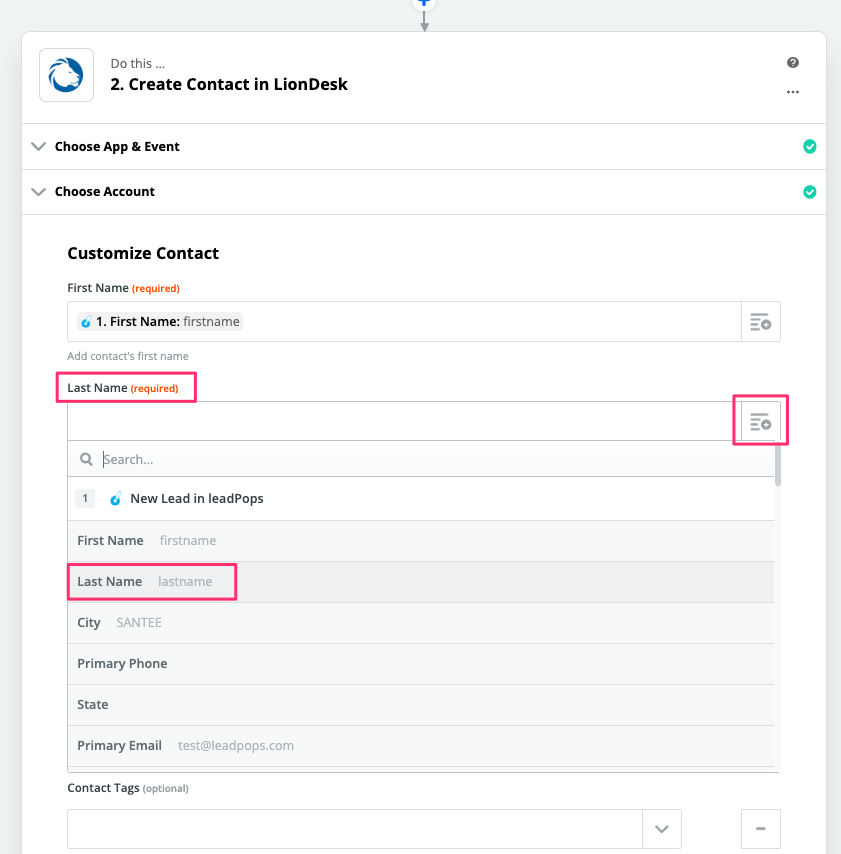 Once you have all of your fields matched, press "Test and Continue" and look for the green check mark.
5. Your Zap is now ready - turn it on!
Your Zap should be all set! All you need to do is turn it on. At this point, we definitely recommend sending a test lead to ensure it was delivered successfully. If it wasn't for any reason, you can always check the Zapier "Task History" - it's a good place to start troubleshooting as it'll show you where something may have stopped functioning along the way.